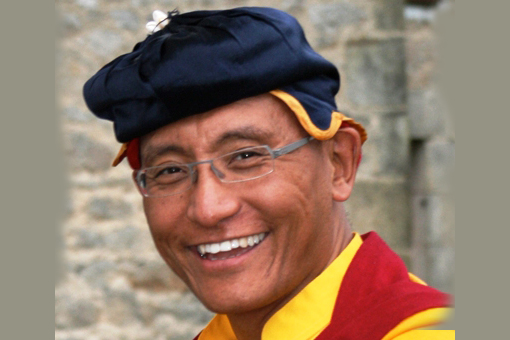 Recipient of the United Nations Millennium Development Goals Award for his cross-border humanitarian work and India's Green Hero Award for his work in sustainable development, the Gyalwang Drukpa is recognized as the preeminent voice for modern issues now facing the Himalayas.
The Gyalwang Drukpa is head of the Buddhist Drukpa Lineage, originating from the scholar-saint Naropa who founded Indian Buddhism over a thousand years ago. Drukpa Buddhism is steeped in celebrating diversity and active community service and has over 30 million followers worldwide.
The Gyalwang Drukpa initiated the Live to Love movement, a secular philosophy that encourages communities to use kindness and wisdom to heal the modern world's challenges, and to celebrate diversity of faiths, cultures, and sexual orientation. Live to Love International is the resulting global network of non-profit organizations focused on those goals, pioneering multiple local and cross-border projects throughout the Himalayas and beyond.

Live to Love is a secular non-profit serving the people and resources of the Himalayas while improving the quality of life for 1.3 billion people throughout the region.
The Himalayan mountain range occupies critical geostrategic locations traversing through several countries while cradling many cultures, ethnicities and traditions. The Himalayas are a significant source of defence, agriculture, energy, water and tourism for the nations they occupy. Yet the region faces a number of challenges.
Live to Love uses sustainable development to tackle those challenges and to build sustainable peace. Our projects achieve many goals at once, such as protecting natural resources, providing medical care and promoting equality. We honour the Himalayas by celebrating its diverse cultures through education and heritage preservation. Live to Love provides the next generation of Himalayans with an appreciation of their culture and a modern skill set to lead their communities.
Historically, the Himalayan Mountains have served as a natural breeding ground for a diverse array of cultures, in part due to the unique geography of the region. Inspired by the multitude of Himalayan cultures that have flourished throughout the centuries, Live to Love celebrates each region for their unique traditions and is founded on the principles of community and indigenous empowerment. Live to Love's Himalayan work including India, Nepal, Bhutan and Tibet. Other projects are in China, Sri Lanka and Myanmar.
Our Projects

The goal of Live to Love projects is to create sustainable solutions for the future of each region and create a culture of peace. With a modern challenges such as environmental degradation, educational inequities, and border disputes, there has never been a more crucial time for local cultural identities to flourish and take part in the larger global dialogue.

All Live to Love projects follow simple guidelines to provide: environmental sustainability, compassionate alternatives to mainstream modern practices, improved quality of life, respect for the local culture and promotion of equality. Live to Love has grown a grassroots movement, originating in the Himalayas, into a model system for the rest of the world where similar projects are now being adapted and duplicated.